Delray Beach offers a lot of fun activities for kids from indoor playgrounds to nature centers and petting zoos, but as a busy mom I found it time consuming to find this information online in one spot. So I put together a list of our favorite Delray Beach play places including The Girls Strawberry Patch, Little Town Play, Delray Beach Children's Garden, Sandoway House Nature Center, Barrel O Monkeys, Chalk Play Cafe and Putt'n Around. For the latest family events check out our Delray Beach Kids Calendar



The Girls Strawberry U-pick

Hidden behind a small shopping center off Military Trail, this gem known as "The Girls" boasts so much fun for kids. Walk through the lush garden path shaded by fruit trees to meet exotic birds, swans and chickens. There is even a small petting zoo where you can pay a $1 to feed the goats and hold baby chicks. Ride the Strawberry Express train to get an educational tour around the property. After you're done, explore the Country Store which offers homemade ice cream and old fashioned candy or grab a slice of pizza at Bambini's Garden Pizzeria next door.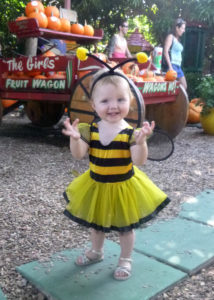 November through April you can pick your own strawberries or tomatoes. In October, I highly recommend their annual The Girl's Halloween Costume Party. Pumpkins are cheap and there's fun activities for the whole family.
COST
Under 3 Free. Children $1. Adults $2
GARDEN HOURS
9am – 6pm Everyday
ADDRESS
14466 S. Military Trail, Suite 3
Delray Beach, FL 33484
561-496-0188
www.thegirlsstrawberryupick.com
---

Little Town Play

Get out of the South Florida heat and explore this brand new indoor play place that just opened in Delray Beach (July 2017).  Perfect for toddlers, it features a cute play town setting over a padded foam floor that includes a 50's diner, fire station and beauty salon! Pretend play and push toys are favorites for those new walkers and for babies not yet walking they offer a cushioned play pin.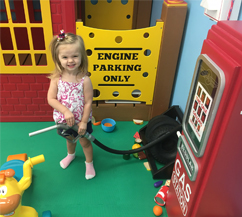 COST
Under 6 mo Free. Children $10. Siblings $5
Weekly/Monthly packages available
HOURS
9am – 4pm Tues – Sun (closed Monday)
ADDRESS
15200 Jog Road
Delray Beach, Florida
Call (561) 562-5661
www.facebook.com/LittleTownPlay/
---

Delray Beach Children's Garden
The only children's garden in Palm Beach County, the Delray Beach Children's Garden is a must see discovery zone for kids! Filled with fun for the senses; smell the growing cinnamon, touch the blooming cotton and even taste ripe berries. Meet Cotton the albino bunny, feed the fish in the turtle pond and plant a seed in the garden.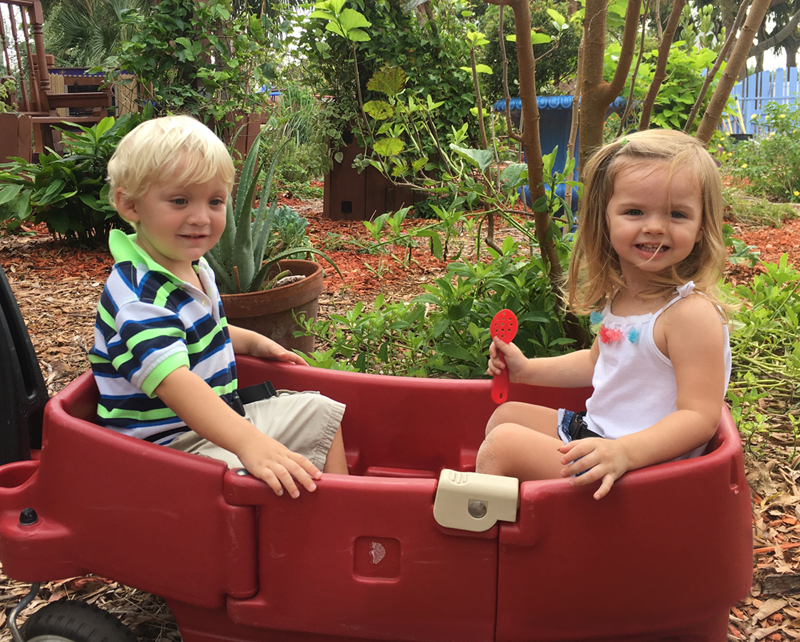 Every Wed. and Thurs. they feature Mother, Nature and Me classes. Starting with an educational craft under the thatched roof hut, followed by a puppet show and story time in the tiki sand box and ending with planting seeds, watering plants and exploring the garden.
COST:
$5 per child.
OPEN GARDEN HOURS:
Varies on Weekdays
9am-12pm Friday & Saturday
11am-2pm Sunday
Check our calendar for Mother, Nature and Me Classes
ADDRESS
137 SW 2nd Ave
Delray Beach, FL
(561) 716-8342
www.delraybeachchildrensgarden.org
---
Sandoway House Nature Center

Directly across from the sands of Delray Beach, you find a historic 1936 house that contains a world of wonder. The Sandoway House focuses on Florida's fragile ecosystems and their inhabitants. Home to sharks, fish, reptiles and even a talking parrot, it boasts a hands-on learning experience for kids of all ages. Walk through the butterfly garden or explore Florida's largest private shell collection. Activities include daily shark and stingray feedings, twice a week alligator feedings, live animal exhibits, fossil digs and more.
PRICE:
$4 for ages 3 and up.
HOURS:
10am – 4pm Tues-Sat
12pm – 4pm Sunday
Live shark feedings Tuesday-Saturday at 10:30am; Sunday at 1:30pm.
ADDRESS
142 South Ocean Blvd.
Delray Beach, FL 33483
(561) 274-7263
www.sandoway.org
---
A Barrel O Monkeys
Barrel O Monkey's has been Delray's favorite kids gym for years. Quaint and cute, it's equipped with all the goodies; an in-floor trampoline, foam and ball pits, and lots of bubbles. Best of all, you do not need to be a member to participate in their open play times or parents night out. Great for birthday parties too!
PRICE:
$10 for single child, $6 for siblings
Package pricing available
OPEN PLAY HOURS:
Thursday's 3:45-4:45pm
Fri-Sat: 9:00-10:00am
ADDRESS
460 NE 5th Ave
Delray Beach, FL 33483
561-274-9899
www.abarrelomonkeys.com
---
Putt'n Around
Putt'n Around is the best miniature golf course around and is a great outing with older kids. Surrounded by tropical landscaping and crawling with fake alligators, its Floridan ocean and Everglades themes make you forget you're in Downtown Delray. They also have an indoor entertainment area with beer and wine bar for mom and dad =)
PRICE:
$18 holes: $9.85 per person
Kids 4 yrs & under:
$6 for 18 holes, $9 for 36 holes
HOURS:
Monday-Sunday 10:00am – 10:00pm
Saturday 10:00am – 11:00pm
ADDRESS: 
350 NE 5th Ave. Delray Beach, FL 33483
Phone: (561) 459-2715
www.puttnaround.net
---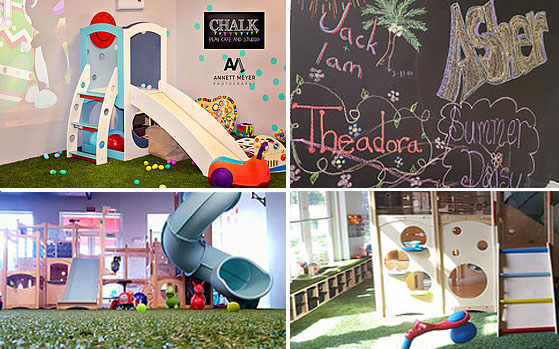 Chalk Play Cafe and Studio
UPDATE: We are sad to announce Chalk has temporarily closed while it's looking for a new location. Will update as soon are we get the new address.
Newly designed by and for moms and their little ones, this cozy indoor play place let's kids play with educational toys while moms (and dads too!) sip a cup of coffee. Chalk's smaller playground makes it easy to see your child playing from any angle, freeing you up to surf the web. Located in Downtown Delray right off the Atlantic strip; get there early for good parking.
PRICE:
First child (age 1-10)   $12
First child (age 0-1)    $8
Sibling  (age 1-10)      $6
Sibling (age 0-1)        Free
OPEN PLAY HOURS:
10am – 6pm Mon-Fri
ADDRESS
151 NE 5th Avenue, Suite C-5
Delray beach, Florida
Phone: (561) 403-5284
www.chalkdelray.com